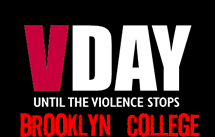 ---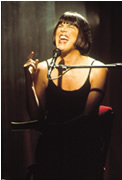 V-DAY AT CUNY BROOKLYN COLLEGE!!!
The V-Day College Campaign has found a home at BC. V-Day is a movement to end violence toward women. It produces cultural events to raise awareness and money for existing anti-violence organizations. V-Day helps these organizations to continue and expand their core work, while we generate broader attention for the fight to stop worldwide violence. As participants in the College Campaign, our goal is to help spread the V-day message of stopping violence against women by producing and performing Eve Enslers' "The Vagina Monologues" on our campus. If you are interested in being a part of this project, whether it is in helping to organize and/or acting, please contact us at: elishevaestherrison@gmail.com or leave a message for Elisheva (V-Day Committee President) at The Women's Center (718) 951-5777.
---
V-DAY 2006
Hey everyone! We've got a lot in store for you guys this year. We are hoping that the BC community will show the same support that they showed last year. We will be keeping you posted on the latest news regarding V-Day. In the meantime, if you're interested in helping out with V-Day 2006 you may contact Elisheva at elishevaestherrison@gmail.com. Hope to hear from you soon.
====================
There will be a CHOCOLATE VAGINA BAKE SALE!!!

When: Friday, March 23, 2006 @ 1:30-3:30
Where: Whitehead Lobby

*If you can't make our benefit performance support our charity by purchasing one of our homemade chocolates*
---
OUR FIRST V-DAY (2002)
Thanks to the support of the Brooklyn College community as well as our sponsors last years V-Day, and Brooklyn College's first, was a success. We were able to raise $1,560.00 for The Rape Crisis Intervention Program (LICH). 10% of the proceeds went to The Revolutionary Association of the Women of Afghanistan (a.k.a. RAWA). Here is a run through of the events from last year's V-Day at CUNY Brooklyn College:
-Planned Parenthood representative Amy Moy led a workshop featuring the film "From Danger to Dignity". It chronicled the double-pronged movement-the grassroots activism and intensive legislative lobbying-that culminated in Roe v. Wade.

-RAW hosted a series of films, in our mini-film festival, reflecting some of the events that have been experienced by victims of rape and domestic violence.
-On March 1st, 2002, RAW organized an afternoon for women of the BC community to come and share their personal stories and struggles as women. It was called the BC monologues. As a result RAW Release has dedicated a whole issue filled with all the monologues from that afternoon. This special issue can be picked up at the Women's Center (227 NE) for a very small donation of $1.00. We hope you can stop by to pick up a copy.
-On March 7th, 2002 we hosted "The Vagina Monologues" featuring an all student cast in SUBO's Gold Room. It was a hit! We want to thank the BC community sooo much for coming out to support and we can't wait until next V-Day!